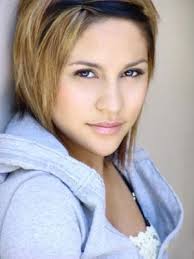 Name
: Renee de la Rosa
Age
: 22
Height
: 5'5
Personality
: Being given the title of second parent, Renee has become very protective, especially when it comes to her family since they're all she has. She's very patient, but also has a tendency to hold in her feelings until they're ready to burst. This causes her to have a few rage fits here and there, which she tries to quell by going to the gym. On a good day, she's witty, having a rather perverted sense of humor, thanks to her brother, Abel.
History
: Though Renee is the second oldest out of four, she doubles as the second parent while her mom and older brother, Abel, are out working. On the weekdays, she goes to school at the Borough of Manhattan Community College and takes care of her younger brother and sister, while on the weekends, she works as a waitress at a dive bar in Midtown – New York City's homicidal capital of the state. Her dad walked out on the family when Renee was only sixteen after getting into an argument with Abel, nearly breaking his arm.
Growing up in a very dangerous part of Manhattan – and because their mom was working three jobs at a time to support the family – Renee's brother got a job working as a mechanic after her graduated high school. One night, he witnessed a customer getting car jacked by the Purple Dragons and tried to be a hero by jumping into the squabble. Abel had no idea what he was up against and the Dragons took him down, shattering his knee. When Renee heard about this, she was furious.
Now with Abel on disability, Renee had to start working in order to help bring in some money for the bills. It's a great struggle, watching her mom go through so much stress as the bills begin to pile up, all because her brother can no longer work. Renee blames the Dragons and wants nothing more than to watch the ones responsible rot in jail, but the police have done nothing to track down Abel's attackers. So with her community-college-level reporting skills, Renee does everything in her power to scope out the Dragons responsible for disabling her brother, even if it means crossing territory that could very well kill her.
Likes
: Fantasy/Sci-Fi books, writing, working out and staying active, spicy foods
Dislikes
: Failure, stressful situations, gangs, unnecessary violence, dolls
Talents
: Writing, piecing together information, scoping out information
Sample post
:
"Hey, sweetheart! Y'gonna wrestle me up s'more o' these potato skins or what?"
Renee tightened her grip around her pen, her shoulders tensing irritable. Inhaling deeply, she spun on her heels and smiled a sickly sweet smile. "Be right there, hon."
The floor beneath her was sticky with beer and woodchips – the woodchips designed not only for decoration but also to prevent the waitresses from tripping over the spilled beverages. Slip resist sneakers could only do so much, especially on their busy nights when their customers got rowdy and started fights, which happened quiet often. Typical behavior when most of their regulars were ex-cons or current gang members. The downside of being located in Midtown.
Picking up the pace, Renee rushed to the kitchen and maneuvered her way through the cooks and other waitresses, ticket stub in hand. She reached over toward the ticket rack, hooking the ticket on its clip and spinning it roughly, the metal screeching painfully. "I need a basket of skins, stat! The guy at table three looks like he's about ready to shank someone if he doesn't get a mouthful of something deep fried."
"Espérate, mija!" JoseLuis, one of the head cooks, called over his shoulder. "We're runnin' a little behind. Go flash him your tatas or somethin' and see if that calms him down."
Renee grinned impishly, shouting at JoseLuis in Spanish before ducking out of the kitchen. She was never offended by most of the things JoseLuis said, mostly because he had the same sort of perverted humor she had. It kept things interesting at the bar, aside from the customers of course. Sometimes Renee liked a little normalcy from all the bar fights, threatened shootings, and overall shit-talk that seemed to happen on a regular basis.
"Hey!" Renee perked up, glancing over her shoulder. It was Julia, one of the waitresses that usually worked the night shifts with her. "Dragons at table five. Watch your back."
Her mouth hung open slightly, spinning on her heels toward the far right of the bar. Sure enough, there they were, a quartet of large, beefy, scruffy men in tattered clothes and dangling chains, their biceps sporting the infamous Purple Dragon tattoos. Three of the men cackled and shoved their way toward their seats while the heftiest member of their group eyed the bar closely, a thin toothpick hanging between lips.
Eyes narrowed, Renee plucked her pen from behind her ear and walked toward their table with a fake smile.
--
This profile is a work in progress, so please let me know if it needs anything or if I need to elaborate on stuff.

Thank you, thank you!